Luxury German Kitchens in Ross-on-Wye, Herefordshire
Kitchens By Design, located in the picturesque town of Ross-on-Wye, specialise in superior German kitchens near Hereford by world-renowned brands, Leicht and Rotpunkt. A dedicated team of experts, we understand that a kitchen is far more than a room for preparing meals but a place for spending time with family and making many memories. With this in mind, no matter what kitchen size, shape, style, or functionality you require, we will work closely with you to understand your unique goals and wishes.
Whether you desire a sleek and modern kitchen style or a more classic aesthetic, Kitchens By Design will provide a first-class service, top-quality designer kitchens, and a seamless client experience from design and specification, through to final handover of your luxurious new German kitchen near Hereford.
A Full Turnkey Kitchen Design and Installation Service
At Kitchens By Design, we offer a full turnkey operation, wherein we can take care of everything from removing your old kitchen to carrying out plumbing, electrics, plastering, flooring, and decorating; in fact, we can do it all for you …the only exception being we won't cook for you when we're finished! Our clients enjoy peace of mind knowing that there will always be a company Director overseeing the whole project from start to finish, and you'll always have the same point of contact, benefitting from the continuity and professional high standard this brings.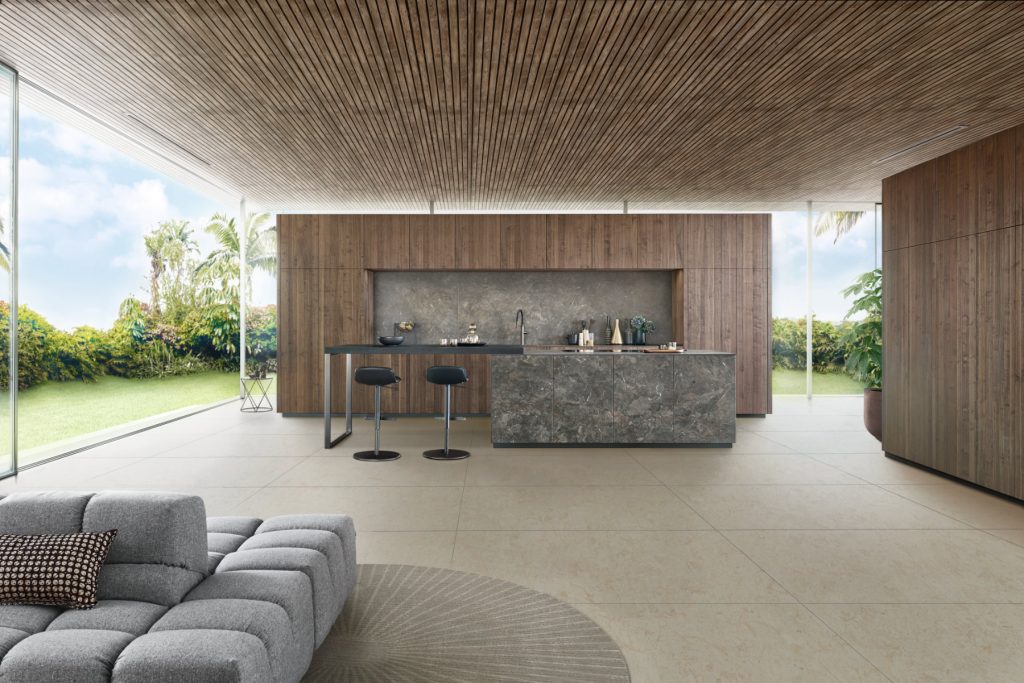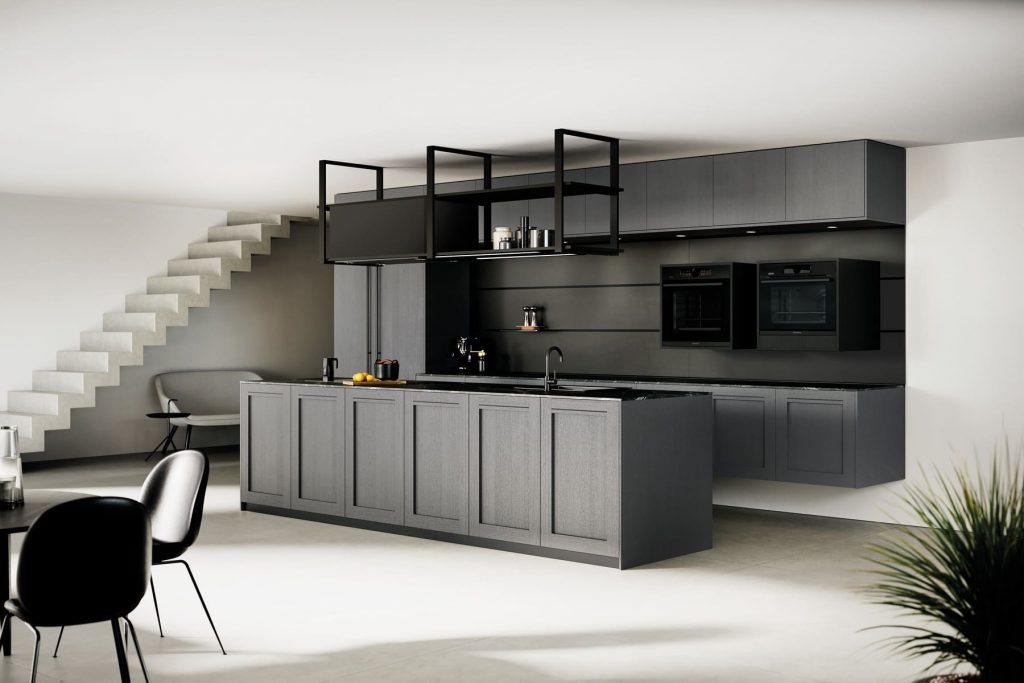 A Flexible Yet Committed Approach
Flexible in our approach, we will work directly with you – or with your architects, builders, or contractors – to provide you with the ultimate German kitchen in Herefordshire which will not only look good today but for tomorrow as well. We are committed to delivering excellent customer service and it's our attention to detail along with our many years of industry experience that makes us truly stand out. We will always listen to what you want to achieve, whether this is clever space-saving ideas or fully customised solutions, and we will deliver an exceptional standard of work to ensure your kitchen takes shape exactly as you dreamed it.
Choose Kitchens By Design, Your Local Independent Kitchen Supplier in Ross-on-Wye
At Kitchens By Design, we want to deliver high quality kitchens at affordable kitchen prices. We're aware that many designer kitchens carry a high price tag, and this is often due to import margins, franchise fees, overheads and other additional costs. But by working directly with our suppliers and through being an independent business, Kitchens By Design can successfully lower our costs, yet without compromising quality. In partnership with our German kitchen brands, Leicht and Rotpunkt, we bring our clients outstanding kitchens at outstanding value.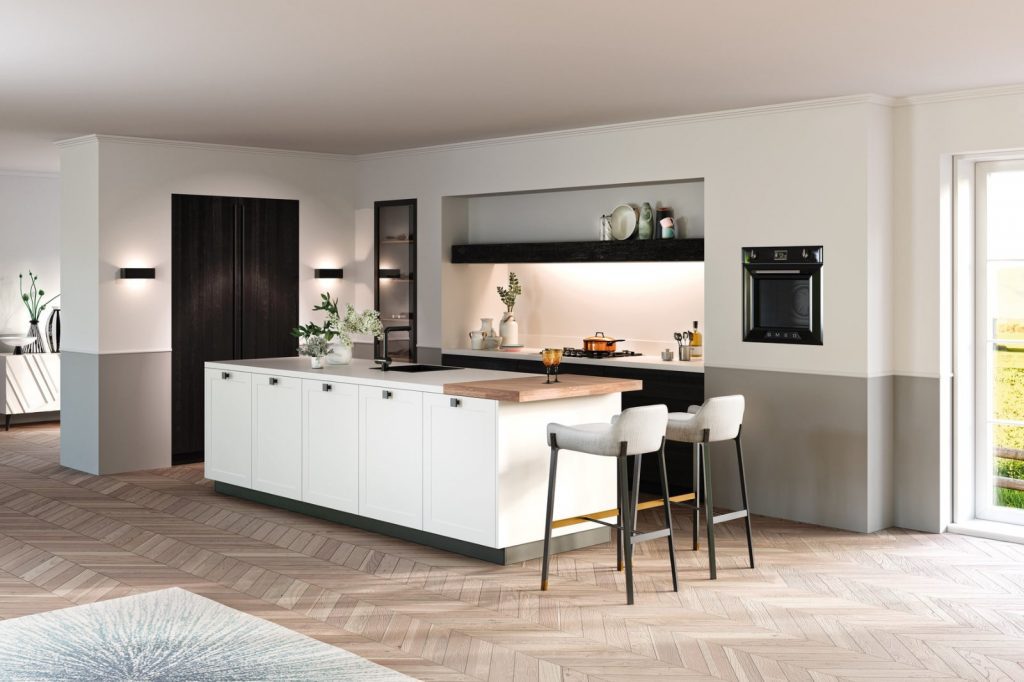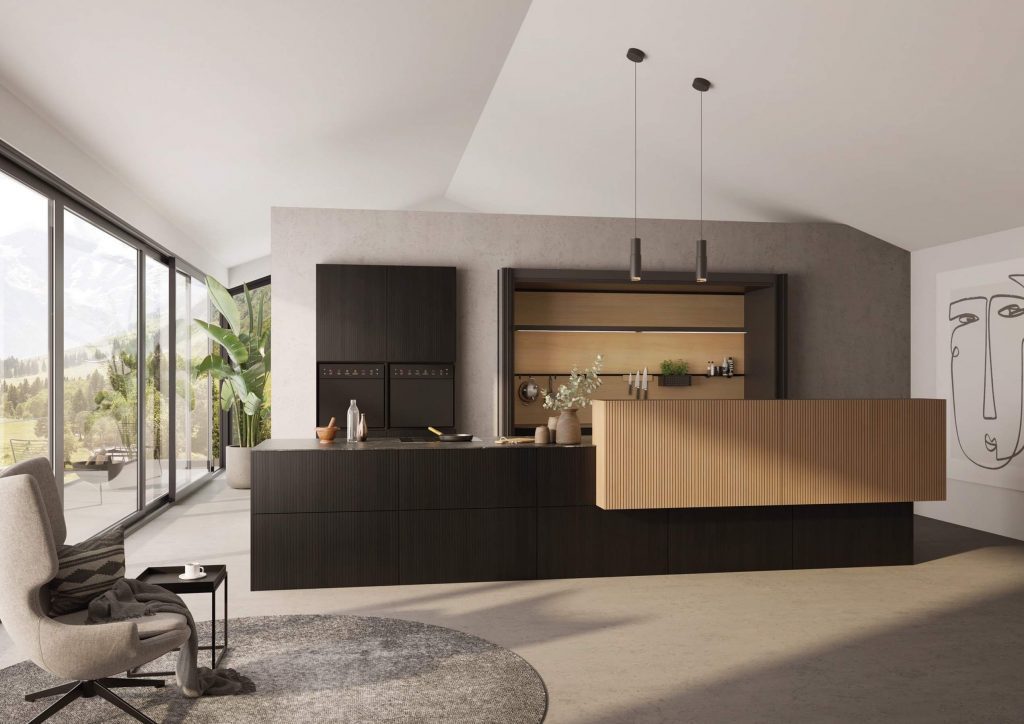 Why Choose A German Kitchen Brand?
Both highly sought-after kitchen brands, Leicht and Rotpunkt are recognised throughout the kitchen design industry for their quality, strength and ultimate practicality. Using the finest materials, cutting-edge designs and precision engineering, our German kitchen offerings are far superior to British kitchen brands and will provide you with a stylish, efficient and organised kitchen which is built to last a lifetime.
Leicht Kitchens – German Kitchen Manufacturers
Leicht have been making premium German kitchens for more than 80 years. Their design focuses on creating very usable kitchen spaces that incorporate stylish and luxurious aesthetics, quality materials, and exciting use of colours. At Kitchens By Design, we deal directly with Leicht as a Master Dealer, which allows us to design, deliver, and install their luxury kitchens to an exceptional standard, yet at a reduced cost which we can pass on to our clients.
Whilst Leicht are one of the smaller German kitchen companies they have a flexible production line which allows for many bespoke kitchen elements and special sizes which others can't produce, such as full-height larder doors. Ultimately, they are flexible, high-quality, design-orientated kitchens which represent very good value for money.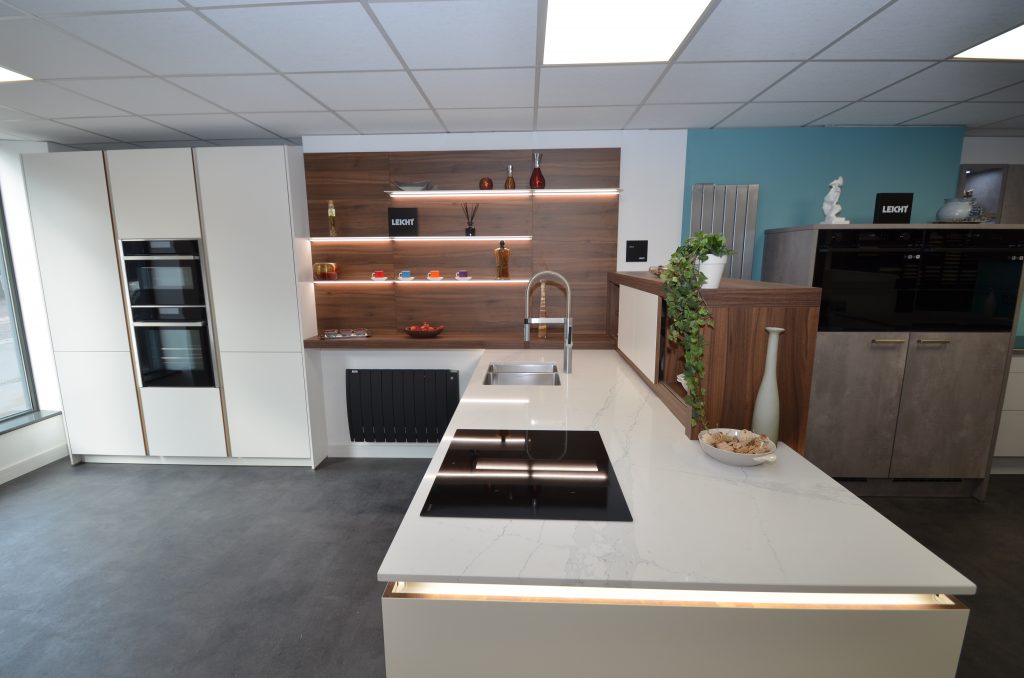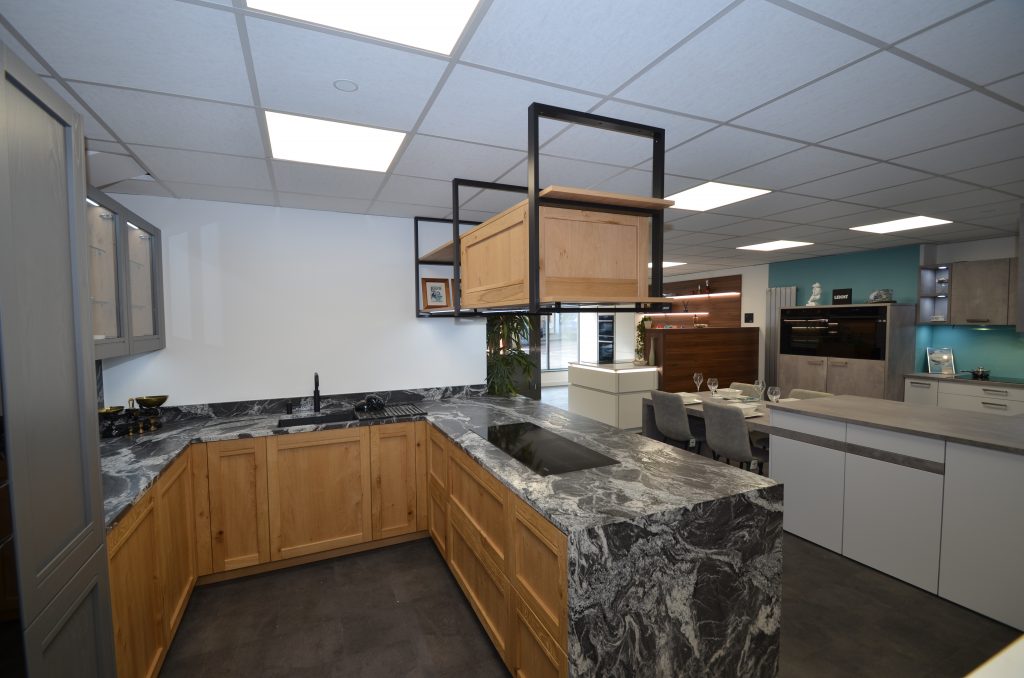 Rotpunkt is a well-known and long-standing German kitchen manufacturer that has a strong reputation for producing high-quality, stylish, and functional kitchens through precision engineering. Roptunkt kitchens offer a modern design aesthetic with a wide range of customisation options; in turn, this enables our specialist team at Kitchens By Design to create kitchen spaces which are stylish yet also highly personal.
Whilst similar to Leicht, where Rotpunkt really differs is in some of the outstanding finishes they offer, with a multitude of colours, bespoke shaker doors, and a luxurious range of Oak kitchen doors, available to see on display in our Ross-on-Wye kitchen showroom.
Additionally, Rotpunkt kitchens are designed with innovative storage solutions and incorporate the latest technology, making them both functional and efficient. Rotpunkt is also committed to using eco-friendly materials and practices, making its kitchens an attractive choice for environmentally conscious customers.
Want to know more?
For more information on our kitchen furniture as well as our full range of appliances and worksurfaces please contact us today. We also offer complimentary kitchen design appointments either in your home or else in our luxury Ross kitchen showroom.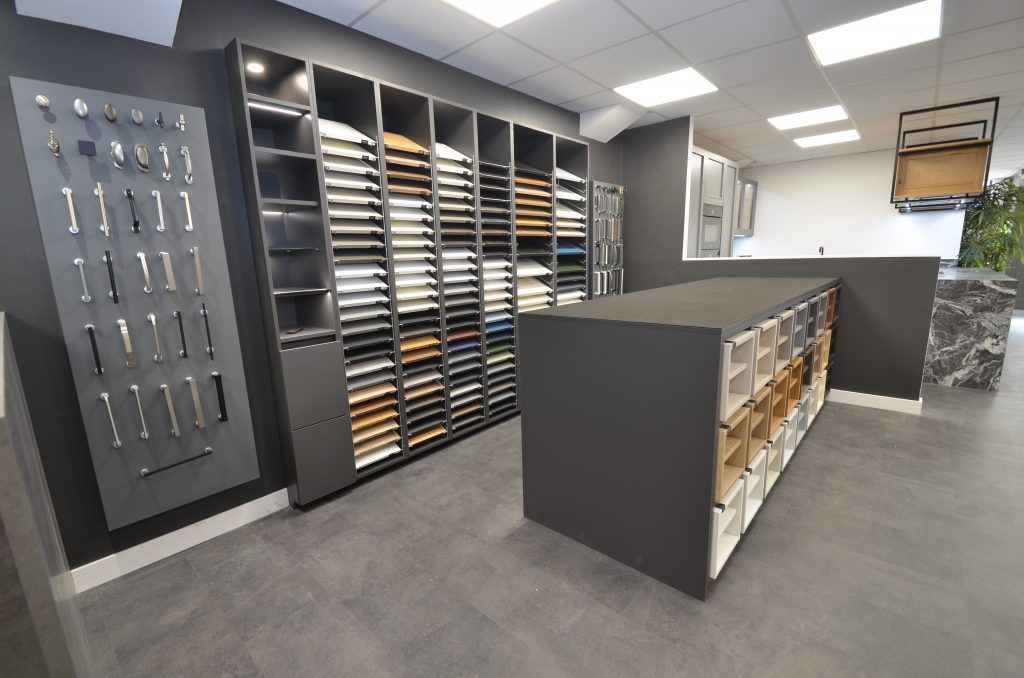 Herefordshire Kitchen Showroom
At Kitchens By Design we know there's nothing like seeing and touching a product for getting a sense of how it's built and what it can do. As such, we welcome you into our Herefordshire kitchen showroom where you can fully explore our range of kitchens
Opening Hours
Monday – Friday: 10am – 4pm
Saturday: 9am – 3pm
Sunday: Closed
Kitchens By Design Ross Service Areas
Kitchen Showroom Amenities
Our luxury Ross kitchen showroom is a welcoming, modern space, and very easy to find on Gloucester Road as you're headed into the local town. We have plenty of car parking nearby, including free parking for 2 hours, which is just a 5-minute walk from our showroom. Alternatively, there are plenty of public car parks nearby as well. We have good accessibility on site, including 2 double doors we can open wide to assist with wheelchair or pram access. We do kindly ask that you please book ahead of your visit so we can ensure one of team is available to show you our product range and help you decide if it is right for you.